Please click on this link to find the propeller that you want.
Total : 0
Aluminum Propellers
Our Advantages
Reliability and Precision
SOLAS uses a state of the art squeeze casting process to make our aluminum propellers stronger and tougher than traditional die cast products.
As shown below, with 400x magnification of a propeller blade root cross-section, the squeeze cast propeller is almost non-porous, with finer grain size than the die cast propeller.
SOLAS aluminum propellers have 4 layers of paint. Using superior coatings and a high-tech painting process ensures excellent anti-corrosion performance.
SOLAS aluminum propellers are exposed to over 500 hours of testing in a salt water spray tank. This testing simulates more than 6 months of normal salt water use.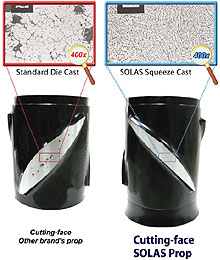 Series Introduction

Interchangeable hub(RBX)
Exclusive squeeze cast process
Stronger blades with better performance
Outstanding acceleration and top speed

Interchangeable hub(RBX)
Exclusive squeeze cast process
Stronger blades with better performance
Great Acceleration and Midrange performance
Great stern lift & handling

Interchangeable hub(RBX)
Larger diameter for the Suzuki DF70-140, 15 tooth
Exclusive squeeze cast process
Stronger blades with better performance
Outstanding acceleration and top speed

Interchangeable hub(RBX)
Exclusive squeeze cast process
High Performance Double Cupped Blades
Improved acceleration and top speed
Better holding power and fuel economy

Traditional Rubber hub
Exclusive squeeze cast process
Stronger blades with better performance
Outstanding acceleration and top speed

Traditional Rubber hub
Exclusive squeeze cast process
Stronger blades with better performance
Great Acceleration and Midrange performance
Great stern lift & handling


Traditional Rubber hub
Exclusive squeeze cast process
Stronger blades with better performance
Larger blades than the Amita 3 series for Superior thrust
Suitable for heavy boats
High Thrust Propeller
Traditional Rubber hub
Exclusive squeeze cast process
Stronger blades with better performance
Excellent forward and reverse thrust
Ideal for kicker engines with heavy loads
Aluminum Bravo Two for Mercruiser
Traditional Rubber hub
Exclusive squeeze cast process
Stronger blades with better performance
Larger blades than the Amita 3 series for Superior thrust
Suitable for heavy boats
DUAL PROPS
for VOLVO PENTA A,B,&C Series DP280,290
Traditional Rubber hub
Exclusive squeeze cast process
Stronger blades with better performance
Outstanding acceleration and top speed